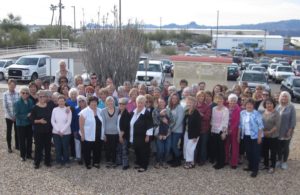 Welcome to the W.O.W. (Women of Wisdom) Bible Study in Lake Havasu City, Arizona. We are a weekly, community Bible study for women, whose purpose is to know God more intimately, serve God more faithfully, and live life more righteously. We want to become…Women of Wisdom!
Cyndee Prieskorn – Bible Study Teacher

Cyndee has taught women's Bible studies in Lake Havasu City for the past 33 years. What began as an opportunity to disciple various women in God's Word soon grew into more than she could have ever imagined. Today, Cyndee writes her own Bible study books in the summers and then teaches them throughout the year. Her love and passion to study and teach God's Word is evident to all that sit under her teaching. Cyndee has been married to her husband, Bryan, for 50 years. She has two children, two children-in-love, and 6 grandchildren. She enjoys reading, spending time with family, and a good cup of tea.